We're in autumn for a little while now and not quite winter yet… It's time for another post about KDE PIM! I'll be your host to cover September and October and will try to follow in the footsteps of my peers who did a great job the past few months. Unlike Franck, I won't start with the stats though, you'll get that at the end. Is it obvious that I'm trying to make sure the stats addicts read through. ;-)
Akademy
As you might have noticed, lots of us gathered to Milano for Akademy. Lots happened there regarding KDE PIM. It was partly covered in Volker's post about Akademy 2019 already, but it's good to highlight a few things.
One of the most important events there is the increasing collaboration with the Plasma Mobile team, which shows in the Plasma Mobile Akademy 2019 recap. This is to be expected in some way, after all, lots of your Personal Information Management happens on mobile these days, it's a natural match between those two teams.
This leads among other things to Dan's work on KAccounts integration in KDE PIM. You can see how the prototype works in the video below, it shows a Google Account integrated with KOrganizer and KAddressBook and controlled from the Online Accounts settings:
KDE Itinerary
Per usual this one is covered separately in its own series by Volker:
GUI Fixes
From Volker again, we got lots of small fixes all over the place about icon and icon size. It was motivated by preparing for KF6 work but it turns out quite nice for high dpi users as well.
KMail
Volker made the actions of the itinerary plugin for KMail easier to discover. It looks quite nice now:

In the meantime, Laurent has been working on three new features for the next release!
First, if you ever hit send too quickly and then regretted it because you forgot to finish a sentence or such, you're going to love this. We have the "Undo Send" feature which got introduced. This allows to define a delay before an email gets really sent. During that delay you then get a notification which allows you to cancel sending.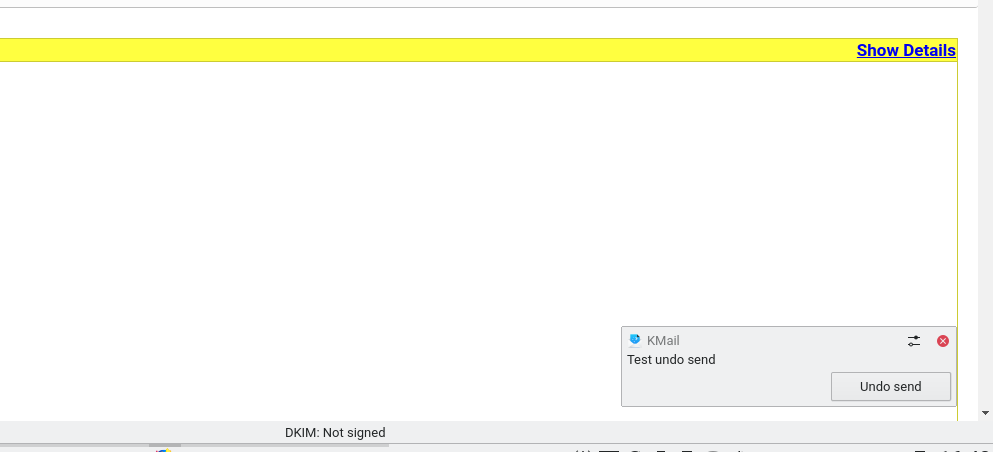 Second, Laurent introduced the "Quick Text" plugin which improves snippet support. This enables the user to have variables for most fields which are usable in snippets. Later on when the snippet is inserted in the composer, all these variables will automatically match the corresponding fields (date, name, from, etc.).
Third, a nice feature regarding security and privacy. DKIM support is implemented straight in KMail. This allows your beloved mail client to verify that an email was really sent by the mail server it's supposed to.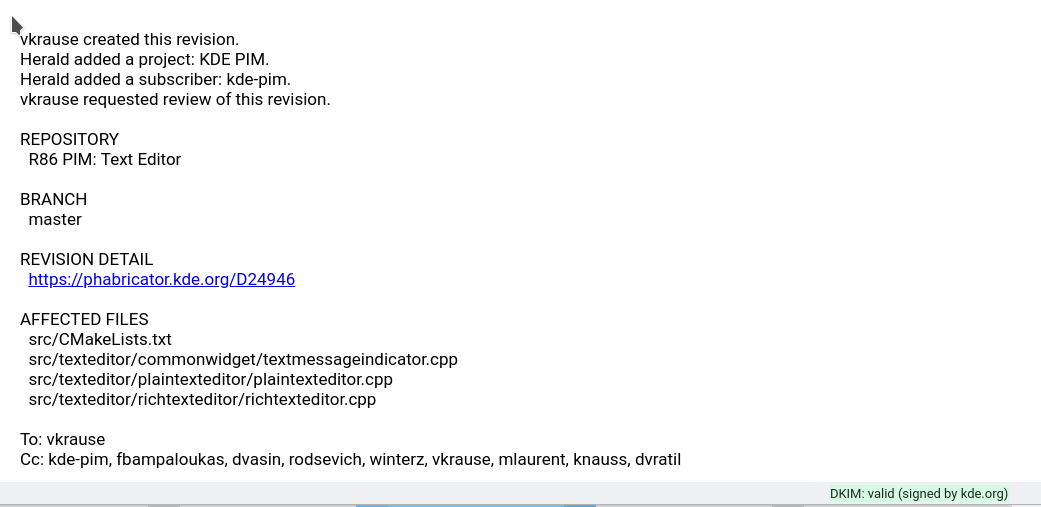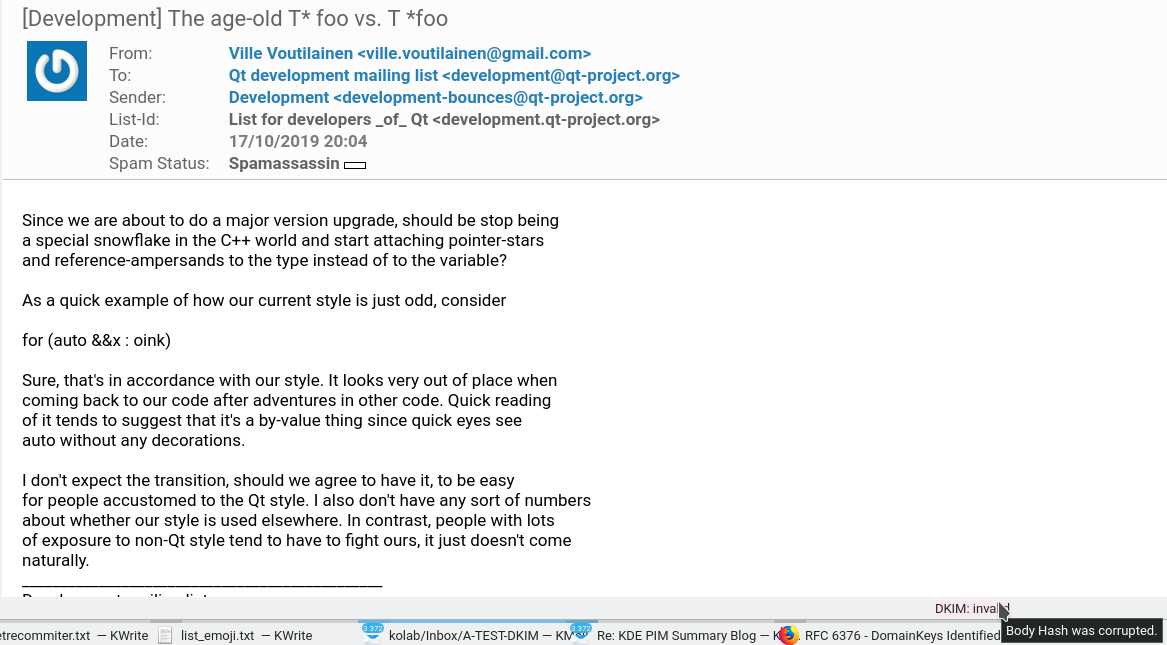 And of course, there's been Laurent's usual activity on fixing bugs, removing the use of deprecated functions and preparing to port to KF6.
Frameworks
This is the big news, some parts of KDE PIM are now in KDE Frameworks!
In particular, KCalendarCore and KContacts finally landed there and are introduced publicly in KDE Frameworks 5.63. This will definitely help users which are not part of KDE Application release which were forced to have dependencies on PIM (Plasma Mobile and Zanshin come to mind but there are more).
The next target to end up in KDE Frameworks is KDAV. The work started on it, mainly focusing on ABI stability, reducing the public link interface and adding fixes in KIO (where they belong) instead of working around them within KDAV. Also very importantly: the agreement to relicense to LGPL has been reached, so the remaining non LGPL parts can be adjusted.
Indirectly related, Dan has been cleaning up the API of KAsync which is not used a lot yet but will get more important in the future. Indeed there are plans to introduce an easier to use Akonadi client API which would depend on KAsync. Stay tuned!
So, I've been in a long hiatus regarding my community data analytics posts (or any posts for that matter). Some of you might wonder… is it gone? Will he ever do any colored blobs again? Fear not my friends, the opportunity was too nice, here comes your fix of data visualization.
A big shout out to all those who participated in KDE PIM work the past couple of months. Thanks a lot! It's a very important job you're all doing, they know who they are, but here is the activity graph of the past two months, so now everyone know who they are (offer them drinks if you get the chance!):
In the past two months, we had 25 different developers on KDE PIM. And of course, since my data is coming only from git, this unfortunately misses people who helped with bug reports, docs, design etc. Whatever your contribution you can be all proud!
I'm using the opportunity to point out an unsung hero of KDE PIM: David Jarvie! This man has been around longer than I remember, and you can see he's still fairly active.
Now, how does the code contributor network looks like?
Unsurprisingly the two most influential ones are Volker and Laurent. You can also see three extra persons fairly central to the network: Yuri Chornoivan, David Jarvie, David Faure and Friedrich W.H. Kossebau. All those people have their hands in many pies and that's very much needed.
You might also notice disconnected nodes in the graph. I often make the mistake to not talk much about those in my posts… But it doesn't mean they're not important! For an healthy open team you need some of those less connected nodes: they tend to come and go while focusing for a short time on less noticeable issues. It is very important for our users to get a nice experience in the end.
In the end, what I like about this graph in KDE PIM is that we get something relatively well balanced in term of very connected nodes and much less connected nodes.
How You Can Help
Next time, your name could be in visualizations like the ones above!
Check out the KDE PIM Development wiki and find out how to be part of something that matters. If you want your share of this or need help to get started, feel free to contact us #kontact and #akonadi IRC channels on Freenode.
Finally, consider making a tax-deductible donation to the KDE e.V. foundation