I've been back home for a week now. Another Akademy has passed and as usual it was a blast. I will keep fond memories of that edition for sure. Here is the list of the moments which touched me the most.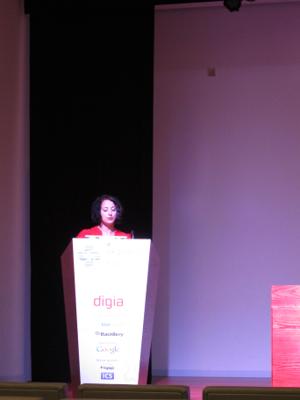 First, I'll remember Eva Galperin's keynote of course. It's likely among my short list of the most important keynote we ever had, and for me, it sits right next to Glyn Moody's keynote in 2009. They are definitely closely related in message. If you didn't yet go watch them! Eva's conclusion was especially poignant as the EFF spends so much energy trying to influence policies, she said:
"Help us Free Software, you are our last and only hope… Go for it, use strong encryption, build new products, save us".
Clearly a call to action we have to listen too in those dark times. We're part of the people and through our actions we can claim the democracy back.
Second, I'll remember my own keynote. Don't worry it's not about narcissism at all… It's clearly not the best keynote ever anyway. But I'll remember it for different reasons. It was a first for me to be pushed in the spotlight like that, and so it'll take a lot of time before I properly let the feelings sink in. Also, it was a very humbling experience, being in front of such a brilliant crowd trying to deliver a political message and propose a direction for our community.
Third, I'll remember witnessing the "Church of the Canoe" birth. Jonathan Riddell loves to canoe. He canoes everywhere. I think that when he visited me a few years back in Toulouse, almost the first thing he asked me after getting out of the train station was "can I canoe on the Garonne?" So that's definitely a serious business, and he looks up a spot at each Akademy.
This year something interesting happened though. He called to gather more people wanting to try it, and got positive replies (of course, we're talking about KDE people here). That's why this year we had a group of "canoe pilgrims" congregating to Jonathan's spot. I followed along to get proof of that phenomenon in pictures.
It was all good fun, they all did well for a first try (except Jonathan they were all first timers as far as I know), and nobody disappeared. It was a nice, peaceful, relaxing experience for me standing on the deck and watching.
And last but not least, I'll remember the sleepy heads in the bus during the day trip. This day trip was really nice, but we spent quite some time in a bus. And what happens to people who've been attending talks, hacking at night, discussing, making compromises, etc. for several days in a row when you put them in a bus?
Well, the exhaustion kicks in and they fell asleep of course! I used the opportunity to take a few pictures of the ones I had around. I call them the "sleeping froggies". Don't worry they did more than just sleep during the day trip, despite resting their eyes in the bus (yeah right…), they happily walked, swam and feasted at the appropriate times of the day trip. :-)
In the end, there is nothing technical in that list you might say. That's true. It's not that I didn't take part in the usual hacking or technical talks… it's just that they make poor memories in themselves (despite bringing nice results). The persons I interact with and how they change my life matter more.